Aldeburgh Lifeboat Station Guild will be running a street fair, outside the station on Crag Path, on Saturday 26th August from 10am to 1pm.
All money raised goes towards the running of this essential rescue service, which saves lives at sea.
Both lifeboats will be launched to demonstrate their capabilities, on Monday 21st August at approximately 11am, during the Aldeburgh Carnival.
However, this is subject to weather and operational duties
Aldeburgh Lifeboat station annual Open Day will take place on Saturday 12th August from 10am to 4pm.
Come along and chat to the crew, have a tour around the All- Weather and Inshore Lifeboats, see the equipment that is used in a rescue.  There will also be fun games and colouring pads for the children and lots of goodies.  Find out about the Respect the Water Campaign, how to avoid danger and survive an emergency situation.
Team JKT are a team of 4 men based in Leeds.  They started on Sunday (29th May) and are attempting to break a world record by visiting every mainland lifeboat station in the UK within 7 days.  They are doing this to raise money and awareness of the RNLI's lifesaving work around the UK.  Their aim is to reach each station at a very specific time and should arrive in Aldeburgh on Thursday 1st June at 18.28.  So all support for Team JKT would be very welcome!
It is with deep regret to announce the recent death of former Lifeboat Guild Treasurer, Adam Turnbull.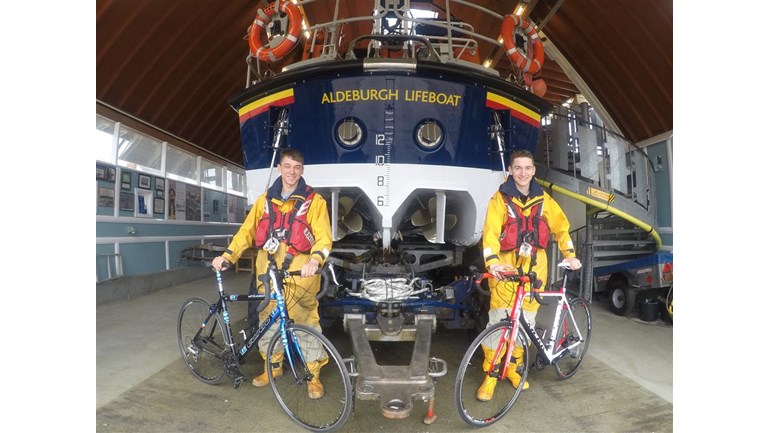 Luke and Alex have decided to take part in the 120 mile cycle ride from London Fields to Dunwich to raise money for the RNLI, a charity very close to their hearts, as they are both Aldeburgh Lifeboat crew.
What is the Dunwich Dynamo? It is a 120 mile bike ride from London Fields to Dunwich, starting on Saturday 8th July at 8pm, until they reach Dunwich on the Sunday.  However, as they are doing the 120 miles, they thought they might as well finish it off and get back to Aldeburgh! So in total a distance of approximately 132 miles.
Why are they raising money for a charity they give up their time for? Luke and Alex both said 'The RNLI is such an amazing charity and it is a pleasure to volunteer for them. They give us first class amazing training to help them save lives at sea, but we wanted to give back more than just our time'.
https://www.justgiving.com/fundraising/lukeandalex4rnli
Littlehampton Lifeboat Station carried out a fundraising event by cycling from Aldeburgh Lifeboat Station to Littlehampton.  A couple of the cycling team are pictured above, the first starting at Aldeburgh, with 2 very tired cyclists at Littlehampton in the second.  They have raised over £3000 for the RNLI!
Aldeburgh Lifeboat Station will receive a new D Class Inshore Lifeboat (ILB) on Wednesday 3rd May, which will arrive at approximately 1-2pm.  This will replace the current ILB, 'Christine'.  The new ILB is numbered D808 and will go into service soon after arrival.  There will be an official naming ceremony on Saturday 10th June at 1pm and the ILB will be called 'Susan Scott'.